​The Safari Connection offers only fair chase sustainable hunting in Zimbabwe, Tanzania, Mozambique and Namibia! All of our outstanding adventures are guaranteed to be exactly as represented and are backed by our 100% satisfaction guarantee!!! While our offerings represent the finest to be found we strive to have very competitive pricing surpassing many other destinations that are more expensive and deliver less quality, service and or diversity. You will see that we don't post daily rates or trophy fee lists here other than the hunts seen in our deals section. Our clients' hunts are custom tailored for each and every individual. We will supply complete trophy fee and daily rate price list, maps, GPS coordinates plus much more for your prospective hunt once we know your desires. We have our own camp near Hwange for many species and we have access to many more areas depending on the species to be hunted. Our remote luxury base camps are fantastic featuring comfortable ensuite chalets or rooms, in some cases tented camps, gourmet dining, swimming pools and always an open-air bar/braai communal area where nightly tales of the day's adventures can unfold! When combined with the massive surrounding hunting areas featuring free ranging hunts for 6 of the Dangerous 7 we have a combination that makes us unique in the safari world. For our angling clients we offer excellent fishing adventures in Zimbabwe for Tiger Fish, several species of Bream and Vundu the giant catfish of Lake Kariba. In Namibia we have excellent resources for off-shore fishing and beach fishing for Sharks that's always thrilling!
While I specialize in true fair chase hunting, I also understand that some species can be very hard to find and restrictively expensive in a wild hunting situation. We do have contacts in South Africa that can provide these, and we won't send anyone to a take and place type of venue. I use only large ranches where the game is self-propagating. I don't list any South African hunting companies on our site but as with all our hunts we will custom tailor a side trip to your specifications at a competitive price.

​You will notice as you go through this site that we show all of the companies we recommend and full contact details unlike many other "agents" or hunt booking services found today. I personally know EVERY individual on this site and in some cases I am a co-owner. If I can't trust them to be honest with a booking, how could I trust them to take you my valued clients' dangerous game hunting? It is you the client's choice to contact them directly or call us! However, there are distinct advantages in using my service. I offer my guarantee, customer support, monetary safety and advice. I have traveled to Africa over 30 times and spent well over 2.5 years of my life working and hunting there, giving me an education in Africa to say the least! We help every client that desires it with our sister company Victoria Falls Safari Services including all elements of planning, discounted flights and hotel rooms that can save you thousands of dollars and provide upgrades that many overlook! We do not charge our clients for this service and receive no payment from hotels or the airlines. We have a simple philosophy that we would rather you spend your $$ WITH US & OUR PROS!
​SEE OUR SAFARI TRAVEL PAGE---Victoria Falls Safari Services on this site.
In Zimbabwe we have years of experience, excellent connections and resources across the country!
Zimbabwe offers the most bang for your buck and some of the best fair chase hunting left on the planet! below is a list of our top endorsed Zim pro's. See our TSC endorsed professional hunter page for contact details.

Mike Blignaut is my partner and an upcoming professional hunter that is excellent when it comes to predators and hippo/croc hunts having vast experience in west Zim and the Omay.

Wayne Dietrechsen owner of Chete Safari Area and a 30-year veteran.

The Hallamore family ​with Lou Hallamore (a genuine Rhody and THE most experienced PH in Zim having a license for over 50 years and author of 2 books), his son Clive Hallamore a fantastic PH.

Steven Meyer who grew up in the Lowveld region and has been responsible for some of the largest elephants taken in the last 2 decades at his Gonarezhou Concession.

Martin Pieters owner of Matetsi Block V & veteran of hundreds of hunts.

Terry Fenn is an original Rhodesian that knows every inch of the country and has decades of experience hunting dangerous game
.
Each one of these highly qualified professional hunters has unique skills and specialize in different areas of Zimbabwe allowing The Safari Connection to offer our customers the hunt best suited to their desires. It should be noted that I would trust my life with each and every one of these fine professionals and would not send any client with a PH that didn't meet this level of trust.
---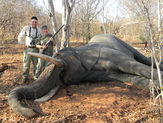 I would like to thank Sean at the Safari Connection for the incredible hunt! Definitively the best safari I've been on so far. I took a huge elephant bull with close to 70 Lbs per side but most of all, my daughter and I had a great time. Special thanks to my PH and his crew at Jimba Safaris. I'll be going back for lion next year.
Tony
in NY
---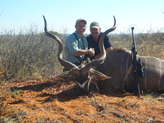 Thank You Safari Connection!! What a great Namibian hunt, after hunting all over South africa Namibia is a refreshing GEM!!!! Amazing safari and I can't wait to get back!! Stan in Kansas
---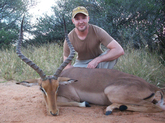 WOW Sean what a great hunt in Namibia! Thank You! Our group of 5 was handled absolutely perfect and we cant wait to return again!! Derrick in KC
---