The Safari Connection offers only the finest sporting locales to discriminating sportsmen in Africa and around the world! All of our safaris are guaranteed to be exactly as represented backed by our 100% satisfaction guarantee!!! While our hunts are the finest to be found in any of the many venues offered we strive to have the most competitive pricing surpassing many hunting operations that are more expensive and deliver less quality, service and or diversity. Our luxury base camps in Zimbabwe and Namibia are fantastic featuring luxury ensuite chalets, swimming pools and open air bar/braai communal areas where nightly tales of the days events unfold!! When combined with the massive surrounding hunting areas featuring free ranging hunts for the Dangerous 7 we have a combination that is hard to match let alone beat.......
In Zimbabwe ALL of our hunts are conducted under Zimbabwe Parks & Wildlife Authority guidelines and ALL hunters are in the constant company of a department game warden. You can see the results of some of our recent hunts below and read hunter testimonials about their exciting adventures. We hope we can make your next hunt the hunt of a lifetime!!!
*****We have fully leased the entire famous Chete Safari Area! Call now to book a hunt in this historic area!*****
We are proud to announce that as of October 1st 2017 Jimba Safaris/TSC has signed a 20 year lease for SOLE ownership of the historic and famous Chete Safari Area!!! Safaris for Leopard, Lion, Elephant, Hippo and Crocodile will be outstanding!!! We have reduced the previous quota to a sustainable annual harvest that will encourage quality trophy reproduction and since the area has not had a full time operator in the last 5 seasons we will have outstanding trophies available from the start of operations!! Chete Safari Area is one of Zimbabwe Parks and Wildlife Authorities largest single properties and when combined with our Sijarira Forrest Area lease and communal grounds this is Zimbabwe single largest hunting area under one companies control!! We are quality management minded company in all respects and we are looking forward to fully restoring the Chete Gorge Camp, one of the most scenic camp sights in Zimbabwe in addition to making Chete live up to its historic hunting reputation!!!

On the Google Map above you can see both our Sijarira Forrest Area lease/lakeshore camp and the entirety of Chete Safari Area including the old camp site on the gorge lip. The map will also convert to the satellite view and you can see in what is almost real time the camps and the lay of the land along the lake and its close proximity to Chizarira National Park.

---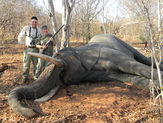 I would like to thank Sean at the Safari Connection for the incredible hunt, definitively the best safari I've been on so far. I took a huge elephant bull with close to 70 Lbs per side but most of all , my daughter and I had a great time. Special thanks to my PH and his crew at Jimba Safaris. I'll be going back for lion next year.
Tony
in NY
---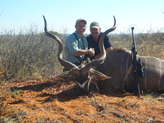 Thank You Safari Connection!! What a great Namibian hunt, after hunting all over South africa Namibia is a refreshing GEM!!!! Otjiwa was amazing and I can't wait to get back!! Stan in Kansas

---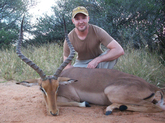 WOW Sean what a great hunt in Namibia with you at Otjiwa Thank You! Our group of 5 was handled absolutely perfect and we cant wait to return again!! Derrick in KC

---