The Otjiwa Safari Lodge by Namib Sun Safaris is the finest Safari destination in Namibia!!! Wildlife is abundant and features White Rhino, Sable, Roan, Nyala, huge Kudu and over 30 other species. No other ranch in Namibia has as many species available and we are also one of the largest at over 35,000 hectares in one tract. We have over 2 million additional conservancy and cattle ranch acres we can access which gives us a variety no other company can match. Our location in the central highlands places us in the highest concentrations of Leopard in the country giving us the opportunity to offer several hunts over bait each year at very competitive prices! The luxury Otjiwa Mountaintop Lodge is situated 200 kilometers north of the capital city Windhoek at almost 5000 feet in elevation and offers outstanding accommodation in exquisite private chalets, all with ensuite baths and stunning views of Waterberg National Park and plateau. Meals are served in a world class central lodge with scenic views of waterholes and game covered plains below. The cuisine is varied Namibian game and is exquisite!!! We also have an on site runway for those continuing their safari in Zambia and Zimbabwe by charter. Come let our outstanding staff show what true Namibian hospitality is about. We know it will be your hunt of a lifetime. Many references available on request!!
---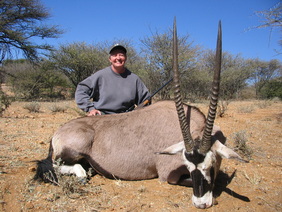 9 Day 6 Animal Special Package $5795.00
The classic plains game safari!! This package includes your choice of 1 Kudu, 1 Waterbuck or 1 Hartmann's Mountain Zebra, 1 Gemsbok, 1 Hartebeest, 1 Springbok or Impala, 1 Steenbok and 1 Warthog. This all inclusive package offers 9 full days of hunting, the services of a professional hunter, skinners, trackers and daily laundry service. All of our hunters stay at the luxury Mountain Top Lodge in individual ensuite chalets all with fantastic views or the Waterberg National Park.

---
---

Otjiwa Safari Lodge Standard Price List
Professional Hunter 1 x 1 $375.00 per day
Professional Hunter 2 x 1 $300.00 per day
Observer $190.00 per day
Transfers $150.00 per day
Rare and dangerous game daily rates & trophy fees
Professional Hunter 1x1 $750.00 per day required for dangerous game plus trophy fees below.
(no 2x1 hunts available for dangerous game)
Sable (up to 40") $11,500.00 (40" or better) $13,000.00
Roan Antelope $12,000.00
White Rhino green dart hunt $10,995.00
Leopard inclusive of bait $8500.00

Trophy Fees

Aardwolf
Baboon
Black Wildebeest
Blue Wildebeest
Blesbok
Caracal
Civet Cat
Cheetah
Duiker
Damara Dik Dik
Eland
Elephant Bull
Genet Cat
Gemsbok
Giraffe
Impala
Jackal


$2500.00
$150.00
$1250.00
$1250.00
$750.00
$450.00
$450.00
$5000.00
$600.00
$2000.00
$1950.00
P.O.R.
$250.00
$750
$1500.00
$750.00
$125.00


Klipspringer
Kudu
Leopard
Lion-Male
Nyala
Ostrich
Red Lechwe
Roan
Sable
Springbok
Steenbok
Warthog
Waterbuck
Wildebeest-Black
Wildebeest-Blue
Zebra-Burchell's
Zebra-Hartmann's


$2000.00
$1750.00
$8500.00
P.O.R.
$4500.00
$450.00
$4500.00
$7500.00
$10,000.00
$600.00
$450.00
$550.00
$1750.0
$1250.00
$1250.00
$1250.00
$1400.00

---
For more info contact